The desire to learn / IJF.org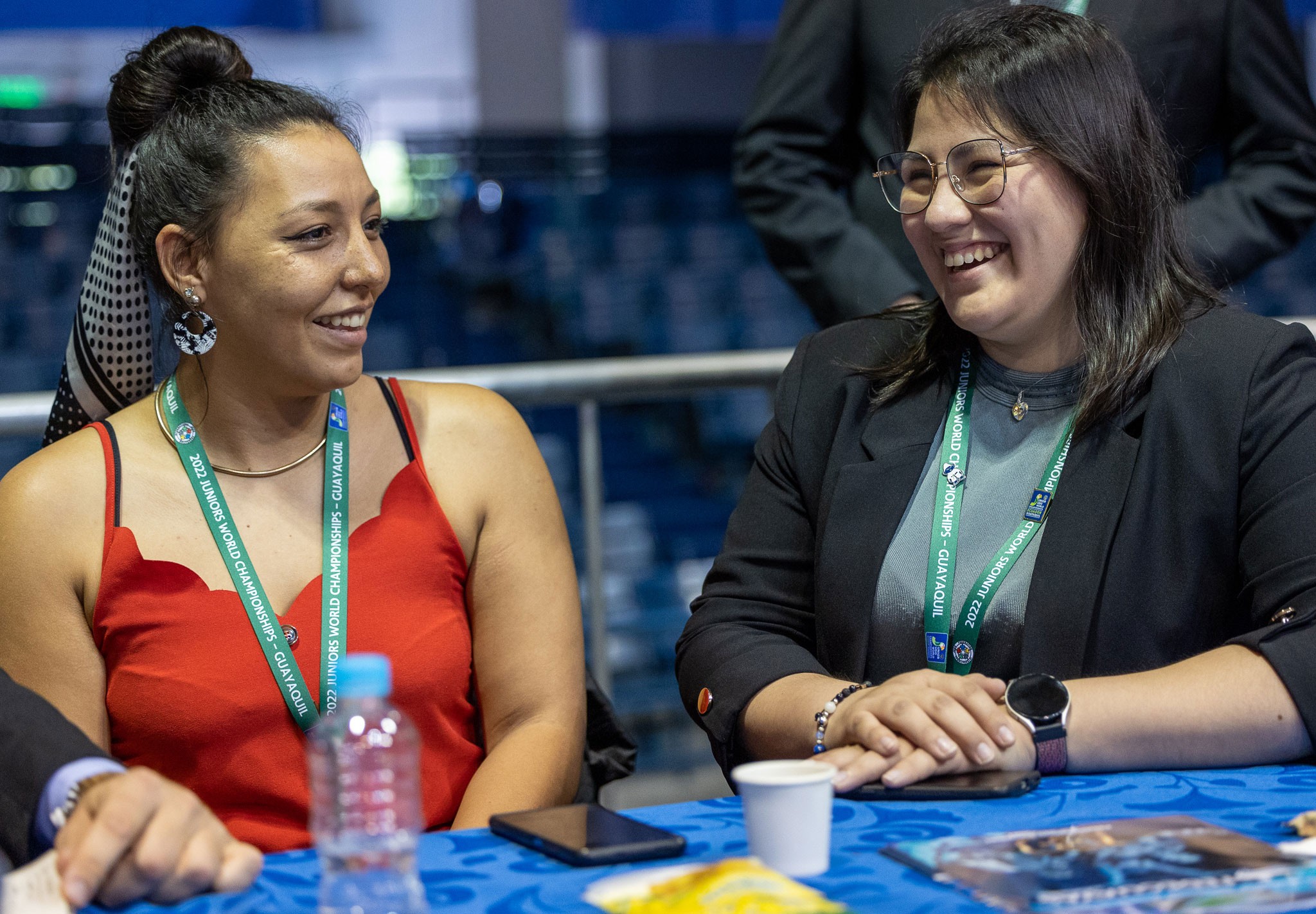 Organizing an event like the Junior World Championships is no mean feat. This requires a lot of preparation and commitment on the part of each of the actors who, behind the scenes, ensure that everything goes well and that in the end the delegations leave having had a great experience. So there are dozens of people from the national federation, the continental union and the IJF who are working to make sure everything goes well.
In Guayaquil, two new faces appeared, Valentine Paire-Ficout Ramirez and Kimberlie Rivera Tello. They gave us some of their precious time to share their experience with us, just before the start of the mixed team competition.
Valentine was a top athlete for Peru, while Kimberlie was for many years one of the driving forces behind the development of judo, first in Peru and now at the level of the Pan American Judo Confederation. They have several points in common and people who at one time or another believed in them and gave them a chance.
"I had a fantastic week in Ecuador. The judo level was really good. We are used to seeing countries like Brazil or Argentina in our regions, but having the opportunity to rub shoulders with Japan or Uzbekistan, for example, was incredible. , here in Guayaquil, that having a first round between Ecuador as the host country and Japan, where judo was created, is incredible and I'm sure everyone will learn a lot. I am very honored to have witnessed all this and to have been part of the IJF and PJC team. It's wonderful to be part of such an event," explained Valentine.
Kimberlie agreed: "We are very lucky to be part of this international team, which we learn so much from."
Elisabetta, Corina and Kimberlie
For Kimberlie it was not her very first participation in a world event, since she had already been part of the organization of the grand slam in Brasilia in 2019, "I was happy to find the members of the team of the FIJ. I worked a lot with Elisabetta and Corina from the IT team. I had already met Elisabetta, but not Corina, with whom I had only exchanged emails. I really discovered a lot with her here."
For Valentine it was a first, "This is my very first event with the IJF. I came here with the desire to see, to understand and to learn and I can say that all of this has been the case. I like that everyone works as a team, everyone shares and helps each other. I felt totally integrated into the group. At the very beginning I was a little shy but very quickly the barriers fell. I enjoyed, for example, working with Mohamed Meridja's team."
Before arriving there, Kimberlie had already worked for several years with Carlos Zegarra, president of the PJC, "Before moving to the continental level, Carlos had integrated me into the team of the Peruvian Judo Federation. When he became continental president, he naturally took me with him in his luggage but I also continue to help in my native country where Maria Martinez Murciero is president today.
valentine
Carlos and Maria are two people who meant a lot and still mean a lot to both women. "Maria is like our mum in judo. She was my coach in the national team and now as president of the national federation she continues to support me. What is great is that Carlos and Maria believed in us and they gave us our chance."
A few years ago Valentine, who started judo in France, in Ardèche, came to Peru to participate in the national championship, which she won and which opened the doors of the national team to her. Back in France to study, she came back to settle in Lima where she was able to move on to another dimension of her investment in judo. "I'm really proud to work for this team. We're growing together. It's actually quite an extraordinary thing because Carlos and Maria grow and take on new responsibilities and then we move forward with them and develop, like everyone else. around them. For my part, I also owe a lot of my presence to Daniel Lascau, the chief refereeing director of the IJF. I met him in Lima during a seminar and he helped a lot to be here. I can't thank him enough.
"It's wonderful to be part of such an event"
To conclude, we asked Carlos Zegarra what he thought of all this: "What I really appreciate about Kimberlie and Valentine is that they want to learn. TO DO. I needed people like them, our sport needs people like them. Kimberlie wasn't on the national team, but she was brilliant. With judo, she was able to overcome a certain shyness to invest herself completely. Valentine was a very good athlete and she was also brilliant. I couldn't let them get away. In addition, they both speak several languages. For example, Valentine is fluent in all practical languages ​​of our continent. I respect them both a lot and I'm happy that "They are part of my team. The only thing I told them is that the PJC is for everyone and I'm happy that they are helping to develop judo. Now they also have to think about their careers. That's why their presence in Guayaquil was so important."
The least we can say is that there is a deep mutual respect between all these people, a mutual respect that allows everyone to flourish and grow together. There is a lot of desire to learn, but it is already turning into a desire to pass on as Kimberlie and Valentine already feel ready to host more events on Pan Am soil. That's all we can wish for them and for the world of judo.